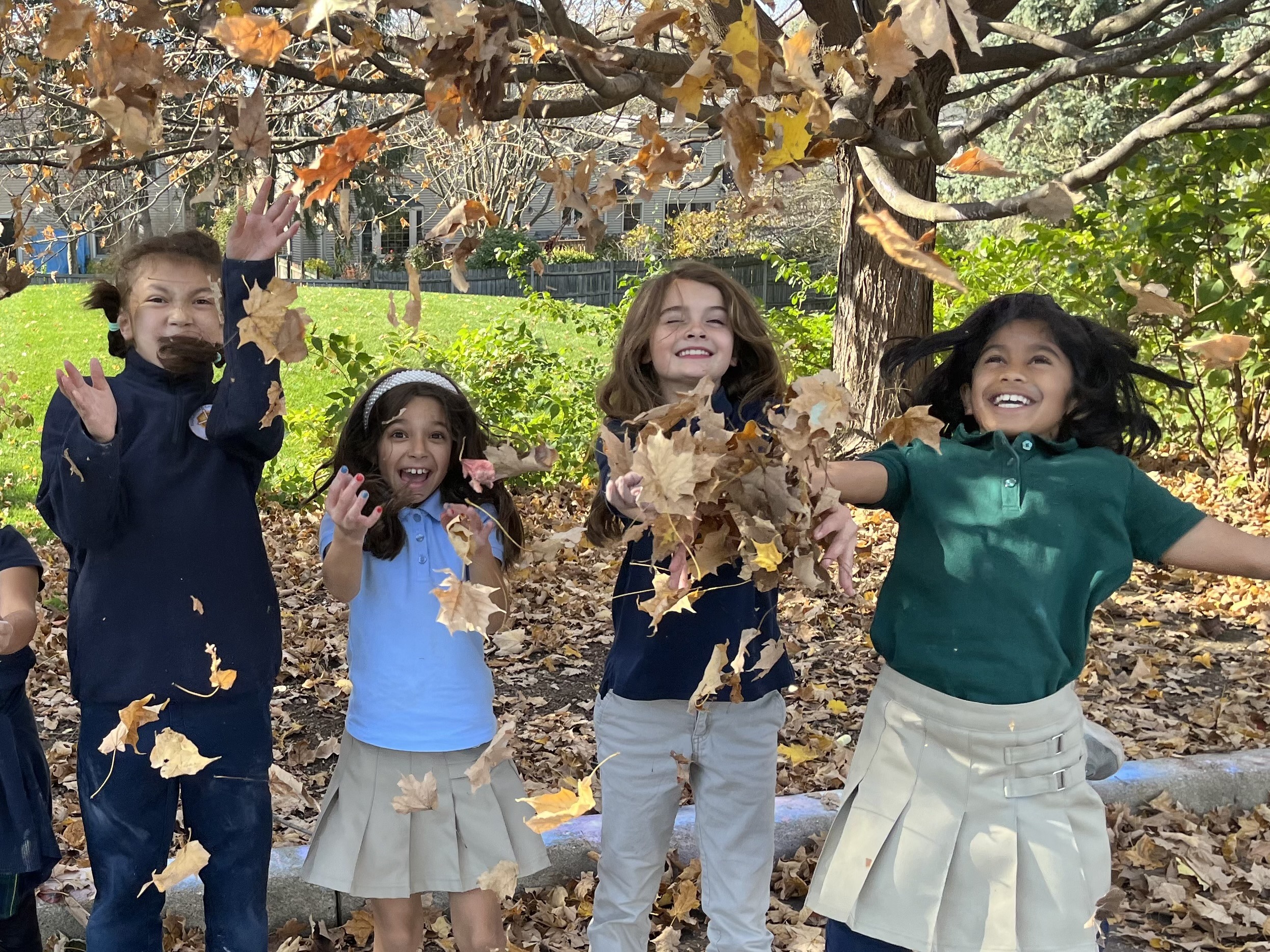 Where children are awakened to the joy of learning
In the Grammar school, we seek to nourish the mind and cultivate the heart.  We provide children with a rich curriculum that gives them the facts they need in areas like math, science, phonics and grammar while inspiring them with works of  the best authors, poets, composers and artists.  Our classical content includes a chronological study of history, Latin grammar, quality literature, and a strong basis for composition.   We are also inspired by the ideas of the late 19th century British educator, Charlotte Mason, who believed in giving students a broad education that included art appreciation, music appreciation, nature study and poetry.  Our goal is to inspire students to ask questions, to think great ideas and to prepare for a meaningful life that honors the Lord.
Please click below for details on each grade level.
Grammar School Curriculum Overview
| Subjects | Kindergarten | 1st Grade | 2nd Grade | 3rd Grade | 4th Grade | 5th Grade |
| --- | --- | --- | --- | --- | --- | --- |
| Math | Developing Roots | Think! Mathematics 1 | Think! Mathematics 2 | Think! Mathematics 3 | Think! Mathematics 4 | Think! Mathematics 5 |
| Science | Senses, Seasons, Nutrition | Animals | Plants, Human Body | Universe | Earth Science and Weather | Physics |
| History | Family, Community, Holidays | Ancient Egypt | Ancient Greece and Rome | Middle Ages | Renaissance and Reformation | Age of Enlightenment and Revolution |
| Grammar | N/A | N/A | Shurley English 2 | Shurley English 3 | Shurley English 4 and Warriner's Intro Course | Warriner's First Course |
| Latin | N/A | N/A | N/A | Latin for Children A (Part 1) | Latin for Children A (Part 2) | Latin for Children B |
| Phonics | Saxon K | Saxon 1 | Phonics Review | N/A | N/A | N/A |
| Spelling | with phonics | with phonics | The Grammar of Spelling 2 | The Grammar of Spelling 3 | The Grammar of Spelling 4 | The Grammar of Spelling 5 |
| Geography | Continents and Oceans | United States | Holy Lands and Asia | Europe | The Americas and Islands | Africa |
| Composition | Oral Narration | Writing with Ease Level 1 | Writing with Ease Level 2 | Institute for Excellence in Writing | Institute for Excellence in Writing | Institute for Excellence in Writing |
| Handwriting | Zaner-Bloser Manuscript K | Zaner-Bloser Manuscript 1 | Zaner-Bloser Cursive 2C | Zaner-Bloser Cursive 3 | Cursive in assignments | Cursive in assignments |
| Bible | Bible Heroes | Genesis – Ruth | I Samuel – Malachi | The Gospels | Peacemakers and Acts – Ephesians | Philippians – Revelation |
| Artist Study | Various Artists | Renoir, Van Gogh, Cassatt | Monet, Millet, Vermeer | Rembrandt, Cezanne, Degas | Michelangelo, Da Vinci, Seurat | Jacques Lois-David, Velasquez, Homer |
| Composer Study | Vivaldi and various other composers | Mozart, Tchaikovsky, Copland | Handel, Chopin, Debussy | Bach, Schubert, Holst | Mendelssohn, Beethoven, Stravinsky | Brahms, Gershwin, Haydn |
| Poetry | Nursery Rhymes and other poems | Robert Louis Stevenson, A.A. Milne, Aileen Fisher | Walter de la Mare, Eugene Field and James Whitcomb Riley, Christina Rosetti | William Blake, Sara Teasdale and Hilda Conkling, Henry Wadsworth Longfellow | Alfred Lord Tennyson, Emily Dickinson, William Wordsworth | Rudyard Kipling, Robert Frost, John Greenleaf Whittier |
| | |
| --- | --- |
| Literature | List includes historically-based literature, read alouds, grade appropriate literature and biographies |
| Art | Two times a week including elements of art, art history and history-related art projects |
| Music | Two times a week including elements of music, music history, music theory and keyboarding |
| Physical Education | Three times a week including building large motor skills, game structure, and physical fitness |