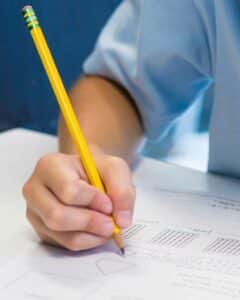 Fourth grade at NCA centers around the history of the Renaissance and the Reformation, including the works of the great artists (Raphael, DaVinci, Michelangelo, etc.) and the life of Martin Luther, as well as the geography of the American continents and the explorers who discovered them for the western world.  We study Earth science, which challenges us to learn about the age of the Earth, its different layers, and how the Biblical account of creation reconciles with science.  We use Peacemakers as our Bible curriculum, learning about kind treatment of our neighbors and Christian conflict resolution.  Our language program progresses in grammar from the basic parts of speech to applying them in all written work and using more expression in oral presentations.
So you can see that in fourth grade, we begin to develop skills the students will groom and perfect when they reach Rhetoric School in a few years.  And, as always, we welcome questions and discovery!
Math: Think! Mathematics 4
Science: Earth Science and Weather & Water
History: Renaissance and Reformation
Grammar: Shurley Grammar 4; Warriner's Introductory Course; Vocabulary across the subjects
Latin: Latin for Children A
Spelling: Learning and applying spelling rules
Geography: The Americas and Islands
Composition: Institute for Excellence in Writing
Art: Elements of Art; 1 time per week
Music: Elements of Music; 2 times per week
P.E.: Building large motor skills, game structure, and physical fitness
Bible: Peacemakers; Acts – Ephesians; Bible Memory
Artist Study: Michelangelo, Da Vinci, Seurat
Composer Study: Mendelssohn, Beethoven, Stravinsky
Poetry: Alfred Lord Tennyson, Emily Dickinson, William Wordsworth
Literature: List includes historically-based literature, read alouds, grade appropriate literature and biographies.
Click here for the literature list.