Third grade at NCA is a year of tremendous growth.  Students become more independent workers and are given more responsibility.  Third graders begin writing in cursive and learning Latin.  The third grade curriculum is a beautiful example of how we integrate subjects to deepen understanding.  By studying the history of the Middle Ages alongside the geography of Europe, Astronomy, and Medieval literature, art and music, students develop profound knowledge of this era. We even construct our own authentic replica castles!  We are proud to see students learn to work hard and begin to enjoy the fruits of diligence, structure, and striving for excellence.
Miss Kleven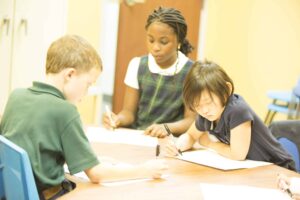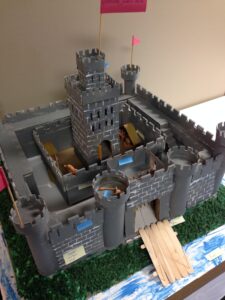 Math
Science
History
Grammar
Latin
Spelling
Geography
Composition
Handwriting
Art
Music
P.E.
Bible
Artist Study
Composer Study
Poetry
Literature.
Saxon 4 Math Skills
Universe
Medieval
Classifying simple sentences through Shurley Grammar;
Vocabulary across the subjects
Classical Latin Level 1
Learning and applying spelling rules
Europe
Institute for Excellence in Writing
Zaner-Bloser: Cursive
Elements of Art; 1 time per week
Elements of Music; 2 times per week
Building large motor skills, game structure, and physical fitness
The Gospels; Bible Memory
Rembrandt, Cezanne, Degas
Bach, Schubert, Schumann
William Blake, Sara Teasdale and Hilda Conkling, Henry Wadsworth Longfellow
List includes historically-based literature, read alouds,
grade appropriate literature and biographies.
Click here for the literature list.