Pancake Cafe provides fresh, catered hot lunches two days per week on Mondays and Wednesdays.
Please refer to the dish for ORDERING DUE DATES to select hot lunch for your students.
"Dear Parents –
We are excited to introduce ourselves to the families of Naperville Christian Academy and are looking forward to working with your families! We are Frank and Shari Kuzniewicz, owners of Pancake Café in Naperville. We will be preparing and delivering your children's meals for next few weeks to test out the Hot Lunch Program.
We have owned and operated Pancake Café for over 29 years and have built a reputation of serving high quality meals with fresh ingredients. We have been catering school events and lunches for over 18 years. As parents ourselves, we understand the need that delicious, quality food is served. In other words, quality food kids LOVE to eat. That is our mission. The same high quality and fresh ingredients we serve in our restaurant will be used in preparing your child's lunch: 100% angus beef cheeseburgers with Wisconsin cheese, oven roasted turkey wraps, 100% white meat chicken nuggets, house-made mac & cheese, chocolate chip pancakes made from scratch, etc. Feel confident that all entrees are peanut-free*. All meals will be individually packaged and prepared at the restaurant, and we will provide a gluten free option. Naperville Christian Academy and Pancake Café are teaming up and working closely to ensure the delivery of your child's lunch will not only be prepared and delivered safe but taste great. We look forward to working with you! "
*Some ingredients are manufactured in facilities that process nuts.
---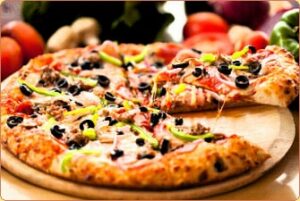 Monthly Pizza Fridays
Keep an eye out in the Dish to see when Pizza Friday's are happening!
Lunch with a purpose…help support our school and enjoy some pizza!
$6.00 for one large slice of pepperoni or cheese pizza with 2 sides
$3.00 for additional slices of pizza (only available with meal purchases)
Sides will include items such as: baby carrots, broccoli florets, apple sauce, clementine's, apple slices, and the like.
pizza from Costco