---
"Naperville Christian Academy is a school genuinely pursuing what it means to be a Christian and classical school. The teachers and administration do the hard work of understanding what that means and applying it to the classroom and their teaching. NCA, moreover, seeks to be Christian and classical in community with anyone else in pursuit of the same goals, seeking to collaborate with others in a spirit of Christian fellowship. The CiRCE Institute, and Dr. Matthew Bianco particularly, have been blessed to work with the team at NCA for training events, consulting, and even a spring conference. CiRCE is excited to see NCA bless their community and their families."
– Dr. Matthew Bianco
The CiRCE Institute

---
Our Anchor, Our Hope: Why Our First Year at NCA Has Made All the Difference
"We transferred to NCA this year, after six years at another classical-Christian school. Change under any circumstances is a challenge. We recognized that it was God's will for us to leap ahead in faith in the middle of the pandemic. That didn't make it less daunting. But as only the Lord can do, he stitched our worries into the seamless fabric of His good will. Our first year has been remarkable: The school's warm embrace not just of my children, but of my husband and me, has been an anchor and a source of hope.
The twin pillars we've come to know and love at NCA are the faculty and the curriculum. Each of my children's teachers raises the bar, summoning them to the highest points of discovery. At these pinnacles, children do their best. The teachers encourage them to delve deeper and revel in what they're learning. In the process, my kids are ever growing into who they're meant to be in Christ. An education that grants you the freedom to grow and learn in Christ, the origin of all knowledge and wisdom—is anything better? NCA teachers have a matchless ability to accomplish this feat while they demonstrate what it means to be kind, dedicated to the truth, and selfless."
-Kristina Cowan
Naperville Christian Academy Parent
---
"I am very eager to share with you why Naperville Christian Academy is not one choice among many schools, or even one choice among many Christian schools, but is entirely different in nature from any educational institution around, certainly any I have ever encountered…"
-Ann N.
Parent of a Naperville Christian Academy Graduate
---
"It has been delightful to attend NCA chapel this year. Worshipping side by side with the students, faculty, administration and fellow parents has been such a beautiful reminder that this is not only a school community, but an eternal family, bonded together in the love of Christ. What a lovely opportunity to pause at the beginning of the day, midweek, and turn our eyes upon Jesus. I find myself reflecting on how deeply grateful I am that this is my son's school experience. What a good gift our Father has given to us in NCA."
– Julie Haydon, NCA Parent
---
"We love this school!  Our two children both attend NCA, our daughter is in 5th grade and our son is in 1st grade.  Everything about this school is excellent.  They have a rigorous academic program enriched with the beauty and wonder of a classical approach to learning, and is grounded in the truth, goodness, and love of a Christian foundation.  The teachers are amazing and really care about cultivating wisdom and virtue in our children.   We have been at this school for five years now and we highly recommend taking a tour to see for yourself what it is all about!"
-Katharine Kotecki
Naperville Christian Academy Parent
---
"I have had two sons attend preschool at NCA and one attended Kindergarten. During those years, I saw their delight in learning soar, their aptitude come alive, and their love for Jesus deepen.  NCA is fervently committed to strengthening our kids' love for Jesus and spurring them to excellence in academics. "
-Stacy Knapp
Naperville Christian Academy Parent
---
"My view of NCA was established within the first few minutes of my original meeting with the Headmaster and has only been strengthened since. The tangible presence of Jesus is how I would describe it. In that comes the warming sense of family, the unconditional God kind of love, and the encouraging expectations of excellence. The latter delivering enlightenment in that these children are not special among children, but what is special in them is drawn out of them all."
-John Charter
---
"My husband and I are so pleased with the high school education our daughter received at NCA. Over the course of four years, it was a delight to watch her grow in her abilities to read, write, discuss, and think. The courses are intentionally designed to nurture this type of learning and because the class sizes are small, our daughter had the added benefit of developing close, meaningful relationships with her teachers.  We love the core value at NCA of viewing God as Creator and consequently valuing each and every academic area as an expression of His creative beauty. We appreciate the atmosphere of excellence at the school and we are so happy that our daughter has been well prepared for college. What thrills us the most, however,  is that she is leaving her time at NCA having acquired the love of learning, a skill that will serve her in all of life."
-Linnea Bonenberger
Parent of an NCA Graduate
---
Searching High and Low for a Classical School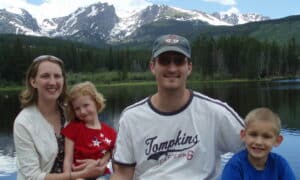 We were introduced to classical education even before we had kids . . . some friends of ours in Arizona half-jokingly contacted us to see if either or both of us would be interested in teaching at a school they were trying to grow (…we weren't!). It wasn't until our son was about three years old that we really started thinking and praying about where God would have us send our kids to school. It was then we started looking more seriously into the philosophy of a Classical Christian education – and we absolutely fell in love with it. We read books and articles and talked with a lot of friends, and really felt that that was what we wanted for our kids. With no known schools in the area, though, it seemed that a classical education could only happen from our own home (PANIC!!!). As much as the literature assures you anyone can home school this way, we for many reasons truly did not see home schooling as an option for us. So, it became an even more fervent matter of prayer. At our yearly extended family prayer time at the end of the summer of '04, this was my only request – that the Lord would make it clear how He would have us educate our kids (James would not be starting kindergarten until the Fall of '06).
Four months later I was enjoying a Christmas brunch with the ladies in my Bible study. It was hosted at the home of a woman who had just joined our study that fall, and as I was passing through her kitchen I heard her excitedly sharing with another friend about the school her daughter attended. Not only was her elated love for the school intriguing, but what she was describing sounded precisely like what we had been praying for. I finally had to interrupt and ask if the school she was describing was a classical school . . . yes! And where is it? Naperville?!? I couldn't believe it (though I should have – God is faithful!). I was confident then that this was God's answer to our prayers, and in the following months/year of our looking closer at NCA, that became even more apparent.
Our son, James, is now in second grade and has attended NCA since kindergarten, and Hannah will be starting next fall. So it would seem appropriate now to write of all the things we love about NCA – I can't . . . there's so much! Each time we meet someone associated with the development and administrating of the school, we praise God for their humility and true desire to instill in each student a Christian world view. Every teacher our son has had the privilege of learning under has nurtured and encouraged Him to live for Christ and to put others first – not to mention the wonderful academics they so effectively teach, resulting in his love for learning. It's also been such a blessing to watch the students at NCA interact – whether it be at lunch time, in Chapel, on the playground, or in class. I'm encouraged seeing their sweet, kind interactions with one another, as well as a respect for all. The junior high students strike me as being confident, caring, and considerate in a way that is not often found in kids their age. I want that for my kids. The more we discover about NCA, the more we praise God for the school – it is truly an answer to prayer!
-Sarah Tompkins
Naperville Christian Academy Parent
---
Other Testimonials…
"Naperville Christian Academy is a blessing in both the quality of the education and the Christian foundation that is being poured into my children. The teachers and curriculum have far exceeded my expectations."
"I am very thankful that Naperville Christian Academy exists. It offers an outstanding Christian education. I am continually amazed at what my children are learning in every subject area. The teachers are godly examples to our children. They inspire them to work hard and do their best for God's glory. My children have grown much intellectually, spiritually, socially and physically. The teachers show commitment, encouragement, love, and patience in teaching our children."
"Naperville Christian Academy is a wonderful school. If you are looking for a caring supportive environment, this is the place. If you are looking for diligent and committed teachers, this is the place. If you are looking for a classical approach to education, this is the place. We are a 'family' at Naperville Christian Academy. Our children are learning great things while their hearts are focused on Jesus Christ. My son has grown by leaps and bounds at this school. His spiritual education has been fantastic! Naperville Christian Academy is a terrific school."
"I was helping my first grade daughter with her homework.  I pulled out a paper about the Good Samaritan and asked her if she could tell me about it.  She recited the verses word for word.  My eyes filled with tears of joy.  Just think how our father in heaven smiles down when he hears little ones speak the Word of the Lord."
"My husband and I wanted our sons to have an education that was founded upon the Word of God and that was academically excellent.   We found this at Naperville Christian Academy."
"I love the Science program at Naperville Christian Academy.  The students do lots of experiments and take wonderful field trips. And what a blessing that science is approached as the study of God's creation."
"The teachers are excellent – they are committed to the Lord, they are intelligent, well-educated, and knowledgeable in their fields, and they love teaching our children."
Visit by Mr. James Daniels, Institute for Classical Schools
James Daniels, consultant with the
Institute for Classical Schools
and former Head of Upper School for Westminster Academy, a K-12 classical Christian school in Memphis, TN, visited NCA in January 2009 and did teacher training with us in August of 2010.  Here are Mr. Daniels' observations from his visit:
"Naperville Christian Academy is a hidden gem in the Chicago area and parents who seek it as a way of educating their children will be thoroughly impressed with the treasure they find.  The school's culture is nurturing, yet focuses on purposefully cultivating character in the lives of young people.  The school is succeeding in teaching students respect, courage, integrity and other "lost virtues" in today's society. 
I recently had the honor of observing school for the day.  The students were inquisitive and well-mannered.  The curriculum was thoughtful and purposeful – challenging, yet meaningful.  During my time, I was pleasantly surprised at the caliber of instruction going on.  The classroom teachers are not satisfied with simply imparting information to their students, but they are interested in engaging the souls of the children.  They are not satisfied with just the "right answer" but questioned and probed in order to ensure that the students were using the "right means" to obtain the answer…both product and process.  Because of the institution's goals of wisdom and virtue versus just knowledge and conformation, the school is categorically different than any other school in the vicinity of Chicago.
As an educational consultant, I have had the opportunity to visit many schools across the nation, and I can honestly say that I am thoroughly impressed with what I see happening within the walls of Naperville Christian Academy by way of educating children for the future.  I believe that the result of this type of education will be young men and women who engage culture by seeking meaning and purpose in all that they do."
James Daniels
The Institute for Classical Schools
---
The following video, produced by the Association of Classical and Christian Schools,  gives good insight into why parents choose classical Christian education.